#SAA18 is almost here!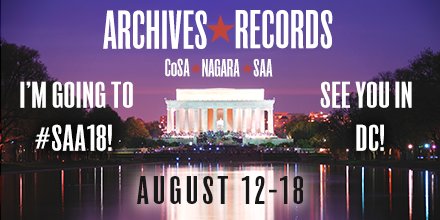 I've already decided on a knitting project for the week, Knitted Knockers. If you're still unsure about what to do with your hands when you're not typing, distributing business cards, or holding a cup of tea, the Host Committee has planned a service project: knitting and crocheting squares to be made into a blanket for Warm Up America. There are patterns on Warm Up America's website for crafters of all experience levels. This is a great stash-buster and I hope to contribute a square or two.

Yes, I still plan on making my Knockers. If anyone wants to make some yarn boobs with me, you're more than welcome to. You can find the approved yarn list and patterns for DPNs, flat needles, crochet, and loom (!) on their website. Need to pick up some nice cotton yarn in DC?  The SAA18 host committee has compiled a list of local craft shops.

Knitting and crocheting in a space with other knitters and crocheters is the perfect social activity for introverted and asocial me. I look forward to doing this at SAA.
#SAA19 session idea: An all-attendee stitch and bitch! People can bring their works in progress or start a new one as a service project (make a square for Warm Up America, yarn prostheses for Knitted Knockers, or maybe hats for premature babies). And as we work through our yarn, we'll share our existing archival (or knitting or life) problems with the group. Or maybe there could be a panel of archivists showing off vintage patterns from their collections or discussing the challenge of maintaining aging fiber crafts. A vendor can sell one-skein patterns and notions in the exhibitor hall. We archivists are knitters and crocheters and wearers of knit-based cardigans!!! Why hasn't anyone done this before?!?!?!

I can't attend the annual meeting next year, but someone has to do this!